Show and Tell: The Baton Rouge Serial Killer (Take 2)

by John Philpin, Crime Profiler
Continued from:
Red Stick by the Numbers: The Baton Rouge Serial Murders: I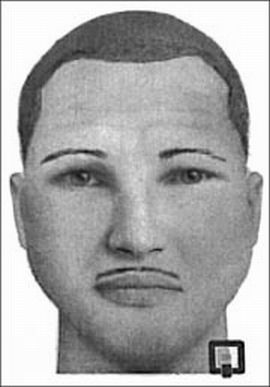 At a news conference on the afternoon of Friday, May 23, 2003, the Baton Rouge area Multi-Agency Task Force released a sketch of a man suspected in assaults on three St. Martin Parish women. The suspect is described as a clean-cut, light-skinned black male in his late twenties to early thirties, with short black hair and brown eyes.
On July 9, 2002, the man attacked a 45-year-old Breaux Bridge woman in her home. He wore jeans and a white shirt, and drove a gold Mitsubishi Mirage. Although DNA testing of evidence was inconclusive, police believe the assaults are related to the serial killer investigation.
The assailant talked his way into the victims' homes, asking to use a telephone and phone book. He was described as friendly and non-threatening, a muscular, good-looking guy. Once inside, he made small talk, eliciting information about others who might live in the residence, or be expected to arrive there. When he determined the women were alone, and when he was reasonably assured he would not be interrupted, he attacked.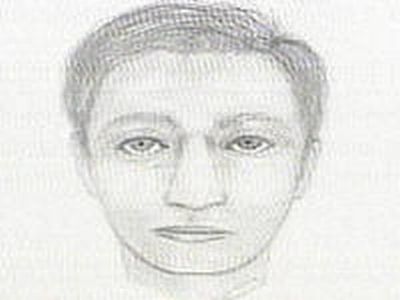 Following the homicide of Trineisha Dene Colomb in December 2002, police released their first sketch. Waxing Ashcroftian, Chief Pat Englade referred to the composite as a person of interest (POI), that nebulous area that is neither suspect nor witness, but hints at being more of the former. The sketch appears nearly human, and quite possibly male. He was seen in a white truck near where Colomb disappeared.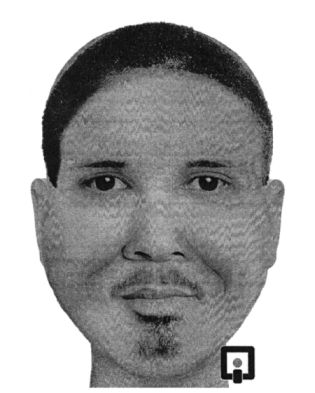 Exhibit three is the composite sketch of a black male suspected of two armed robberies ten minutes apart in an LSU parking lot in the early hours of September 14, 2002. No one was injured, and the man escaped on foot. It is included here for three reasons. First, the incident will serve as a lesson in less-than-rapid police response for the next time a robber is holding you at gunpoint in an LSU parking lot. Second, the sketch either resembles the St. Martin Parish suspect, or it exposes hitherto unknown limitations in the software. And third, if you know this man, the LSU police would like to hear from you.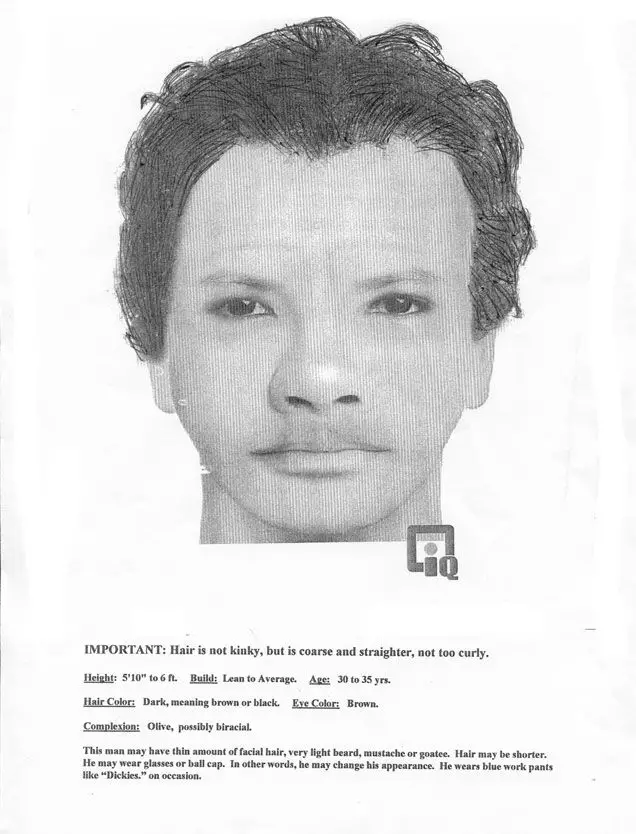 The final exhibit is something of an historical artifact. On May 31, 2002, Murray Pace was murdered in her Sharlo Avenue apartment. Early in the investigation, Pace's neighbors told police about a man they had seen watching the victim's apartment in the days and hours preceding her murder. No composite sketch of this potential person of interest (PPOI) was done. The four witnesses did however work with a volunteer who, at her own expense, had purchased the same software police use to develop their composites.
This sketch was submitted to the Task Force, but was not released.
It quickly developed a cult following, however, surfacing on a few car windshields, and making a brief Internet appearance before being unceremoniously relegated to the trash heap of underappreciated visual aids. It is brought back by popular demand, and for your perusal.
Should any of these exhibits strike your fancy, please do call one of the numbers below.
LSU Police -- 225-578-3231 (Exhibit 3 only)
Baton Rouge Multi-Agency Task Force -- 1-866-389-3310 (All others)
© John Philpin, 2003 All Rights Reserved -- Do not reproduce in any form or circulate without permission.
News archives on the Baton Rouge Serial Killings
More about Criminal Profiler and author John Philpin
More about Serial Killers
Kari & Associates
PO Box 6166
Olympia, WA 98507
Copyright Kari Sable 1994-2006